The Anglican Church of the Ascension, Cadenabbia
There is a strong tradition of public concerts throughout the season at our church.
Visiting choirs are impressed by the warmth of the church, due its stunning beauty, fantastic acoustics and the inspirational surroundings of Lake Como.
The church works with local musical groups and societies as well as welcoming those from all over the world. In the opinion of Judith Liber, the well-known harpist and teacher, the acoustics of the church are much better for music than more famous concert venues. Who can forget the wonderful image of a gilded harp played against the splendid gold mosaics of the apse!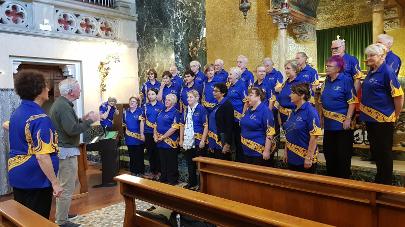 A visiting choir from Queensland, Australia
The 2023 Concert Programme
To be published as soon as possible.