The Anglican Church of the Ascension, Cadenabbia
The Church Community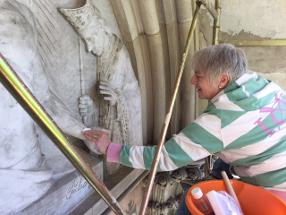 Our Sunday services are typically attended by about 40 people, most of whom are visiting Lake Como on holiday, although there is a growing number who have holiday homes in the area, together with a handful of local residents. Most, but by no means all, are British and many return during subsequent visits. There are also some members who live in the area, often travelling some distance to attend. During the winter the nearest Anglican churches are in Milan and at Lugano in Switzerland.
The gathering after the service over a drink always seems to pass to quickly, with never enough time to catch up with old friends, deepen new acquaintances, exchange views on good restaurants, how to sort out things like internet access and share the delight of this beautiful place.
If you would like to become more involved, or help out in any way, it would be enormously appreciated by the small local team. Opportunities include handing out and clearing up books, reading, taking collections, helping with the refreshments, joining in our working parties etc but we are very open to suggestions and offers of talents. If you would like to find out more or offer to help during the summer season , please email allsaintspriest@hotmail.com.
Fundraising
The church of the Ascension is entirely self-funded and receives no financial help from either the Church of England Commissioners or the State in the UK or in Italy. Therefore the church is reliant entirely for its income on the small congregation of those who live in the area and the generosity of visitors and well-wishers.
We very much appreciate donations to the church made during the Sunday collections, which help support both the regular running costs including providing accommodation for the visiting chaplains, and maintenance of the church building.
Please also see our page on the 125th Anniversary Appeal.
Working Parties
During March 2017 a team of volunteers led by eminent architectural conservationists carried out a complete survey of the condition of the church buildings and fabric. A report was produced and the action plan to address as many of the issues as possible has been agreed. Some of the work is being carried out by volunteers with no experience whereas other aspects need professionals. This is why the 125th Anniversary Appeal is so important. Please do help us if you can by donating your time or helping us financially. It's a beautiful church but will only survive with care and attention from us all.
Wednesday mornings from 10-12 tends to be the working party session when the church is open.