The Anglican Church of the Ascension, Cadenabbia
Music at the Church of the Ascension
(from the brochure "Music and the Organ", written and published by Janet Anderson, organist of Church of the Ascension)
We only have records dating back to the 1960s but certainly before the war, when there was a large resident congregation, music would have played an important part in the life of the church.
Between 1969 and 1973 Janet Anderson and Vivenne Pagliai (former organist/choir director, All Saints' Anglican Church, Milan) joined forces to organize a series of organ recitals and choral concerts. Each year a programme of concerts have been organised, see the list of the concerts for the current season at the end of this section.
We are very grateful for the interest shown by the Italian-Brazilian conductor Martinho Lutero Galati De Oliveira, Robert Michaels, organist and master of choristers, Lugano Cathedral, as well as Kathryn Armour and Terrence Gauss-Woolen, who have been running voice masterclasses on the lake for many years.
The church cooperates with Mikrokosmos of Lecco (Christina Monti and Gian Marco Solaro) and Amadeus Arte (Floraleda Sacchi, harp recitalist) to produce in 2011 a single general programme. Judith Liber, the well-known harpist and teacher has also expressed interest. In her opinion the acoustics of the church are much better for music than more famous concert venues. Who can forget the wonderful image of a gilded harp played at a recital in 2010 against the splendid gold mosaics of the apse!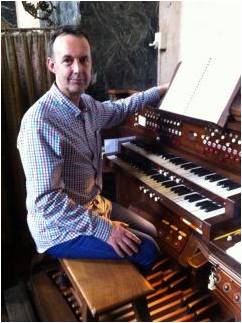 Visiting choirs are enamoured by the warmth of the church due to a combination of factors such as the stunning beauty of the church itself, the stupendous surroundings of Lake Como, with its steep mountains and the happy holiday spirit of the tourists who much appreciate these events. All this is sufficient to inspire the organizer of such events to continue with the annual music season.
2018 Concert Programme
Friday 20th July at 9pm Belakus Male Choir Bellagio
Wednesday 25th July Tremezzo Big Band
Friday 31st August Organ and Violin Concerto
Tuesday 4th September 9pm International Piano Academy Russian Artist
Friday 7th September 9pm International Piano Academy Italian Artist
Saturday 8th September 9pm International Piano Academy Korean Artist
Sunday 9th September 9pm International Piano Academy French Artist
Saturday 15th September 9pm International Piano Academy Chinese Artist
Sunday 16th International 9pm Piano Academy Russian Artist
Monday 17th September 9pm International Piano Academy Cuban Artist
Saturday 29th September Mandolin Orchestra