The Anglican Church of the Ascension, Cadenabbia
Welcome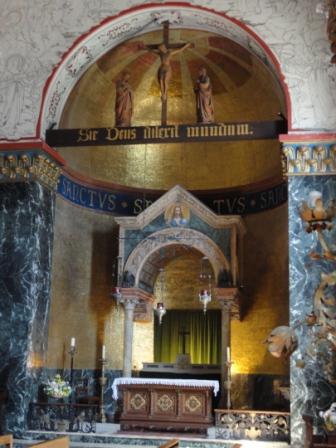 THE 2017 SEASON
The 2017 season will run from Easter Day, Sunday 16th April to Sunday 1st October. There will be a sung Eucharist at 10.30 in English every Sunday during the season.
A huge thank you to Roger and his wife Enid who has been our chaplain throughout the summer. They leave at the end of August and we wish them a safe journey back to Australia.
For the remaining services, up to and including October 1st, the Rev'd Ed Hanson, an American currently working in England, will be conducting the services. He can be contacted on 03444 2165 .
WELCOME TO LAKE COMO, the most beautiful of the Italian lakes, and to the Church of the Ascension at Cadenabbia, one of Lago di Como's most beautiful churches. We have offered worship and fellowship to English-speaking visitors and residents since the 1880s, although the present church was designed by Italian architect Giorgio Brentano and built in 1891.
Who are we?
We are part of the Anglican Church, belonging to the Diocese in Europe and we welcome all visitors of the Christian faith to our services of Holy Communion. These are held every Sunday at 10.30 am from the beginning of May to the end of September. There are occasional services outside of the summer season which will be announced on the Services page.
The church is run by a small group of residents and visiting priests, with the support of the Chaplain of All Saints, Milan. In addition to the weekly services, which attract visitors and holiday home owners from many countries, it hosts regular concerts,detailed on the Concerts and Music page.
The Church is also a popular choice among those seeking to have a wedding blessing service, renewal of marriage vows or baptisms - please visit our Wedding Blessings page for details on how you can celebrate your special day in the beautiful surroundings of our Church on the shores of the most beautiful of the Italian Lakes.
STOP PRESS:
Further working party to be held on 29th August see Church Restoaration page