The Anglican Church of the Ascension, Cadenabbia
Welcome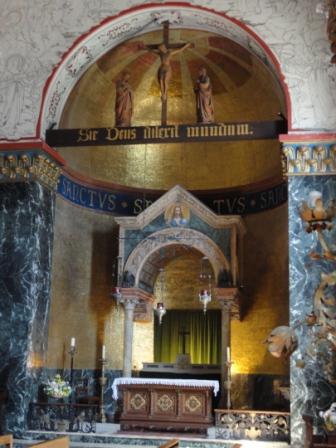 THE 2021 SEASON
We are pleased to announce that The Church of the Ascension in Cadenabbia will be open throughout August. Services will be presided over by Robert Morley, the newly ordained assistant curate at All Saints, Milan; he grew up in Cornwall, and has been resident in Italy for more than 30 years. Should anyone wish to contact him or meet up for a chat over coffee his details are: robert@rushforthmorley.com.
Holy Communion at 10.30 has resumed on Sundays for the month of August, and the church will be open daily from 8.30 AM until 6 PM. In September there will be services on 19th and 26th at 10.30am.
What's more, there will be a short mid-week service on Wednesdays (approx. 15 minute) at 12 AM.
There will also be a broadcast morning prayer every day at 9 AM (except on Sunday) from the church; although this is primarily intended as an online service, anyone who wishes to drop in is more than welcome to attend in person. The Zoom link for morning prayer is:

https://us02web.zoom.us/j/86264979663
STOP PRESS; German Torre will give an organ/harpsichord recital on Friday 27th August at 9pm. There is no entry fee but donations will be gratefully accepted. Green Passes willl be required.
If you would like to contact us please email the Venerable Vickie Sims, All Saints Anglican Church, Milan, at
vickielelasims@gmail.com
WELCOME TO LAKE COMO, the most beautiful of the Italian lakes, and to the Church of the Ascension at Cadenabbia, one of Lago di Como's most beautiful churches. We have offered worship and fellowship to English-speaking visitors and residents since the 1880s, although the present church was designed by Italian architect Giorgio Brentano and built in 1891.
Who are we?
We are part of the Anglican Church, belonging to the Diocese in Europe and we welcome all visitors of the Christian faith to our services of Holy Communion. These are usually held every Sunday at 10.30 am from the Easter Day to the end of October, although this year services are more limited (please see above). There are occasional services outside of the summer season which will be announced on the Services page.
The church is run by a small group of residents and our visiting Chaplain, with the support of the Chaplain of All Saints, Milan. In addition to the weekly services, which attract visitors and holiday home owners from many countries, it hosts regular concerts,detailed on the Concerts and Music page.
The Church is also a popular choice among those seeking to have a wedding blessing service, renewal of marriage vows or baptisms - please visit our Wedding Blessings page for details on how you can celebrate your special day in the stunning surroundings of our Church on the shores of the most beautiful of the Italian Lakes.
Members of the congregation, their families and friends work hard to keep the church in good condition and to raise funds. If you would like to help please contact us.
If you have any safeguarding concerns please report them to safeguarding.cadenabbiachurch@gmail.com