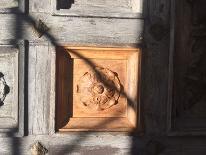 One panel of the door has been tested to see how it can be cleaned. This can be completed by a volunteer with no experience. You can donate your time to help restore our church as well as financial contributions. In 2018 we completed all 48 panels of the door. We hope you will visit to see the progress we have made.
125th Anniversary Appeal
As you may be aware, the Cadenabbia church and community is facing good news and bad news. The good news is that 2016 was the 125th anniversary of the consecration of the Church. We celebrated our anniversary at the Church on 25th September and, if you were able to join us, you will remember it was a real occasion in the life of this church.
Sadly, the resident Church membership has dwindled to just a handful of families who struggle to keep the Church open, both in terms of attendance and finances. Although the Church remains popular to visitors and we do just keep our heads just above water with the small contribution that fees from weddings give us. We are at the point where we need to appeal to friends of the Church of the Ascension for urgent assistance.
Our recent structural survey highlighted that we have around €100,000 of urgent repairs and maintenance to make to the Church. In particular, the pre-Raphaelite "sgrafitto" wall decoration, which is described of being of national importance, is in dire need of specialist restoration (after water damage from the roof); this alone will cost nearly €25,000.
A full list of the required maintenance works can be provided on request, in the form of our 2018 Quinquennial Report. In the opinion of the Diocesan Surveyor, Tony Redman MA, BSc, FRICS, IHBC, "this is a stunning building and probably one of the most significant buildings in the Church of England, certainly one of the most beautiful. It is worth spending money to keep this building open." I am sure that all who have worshipped at our Church will agree with such sentiments. Without an appeal and without donations, we will be unable to carry out even basic maintenance tasks required to keep the Church open for future generations.
So I do hope that, with your close personal links to the Church, you will consider helping keep this beautiful Church open by making a donation to our 125th Anniversary Appeal. Donations can be made online with JustGiving.com (search for "Church of the Ascension, Cadenabbia") including giving us the benefit of Gift Aid if you are a UK taxpayer, or by bank transfer to our Italian bank account (please see attached).
We would be so grateful for your support and prayers in our 125th year.
125th ANNIVERSARY APPEAL BANK ACCOUNT DETAILS
Account name: Church of the Ascension, Cadenabbia
Account bank: Banca Prossima, Piazza Ferrari, 10, 20121 Milano, Italy
IBAN: IT92 E033 5901 6001 0000 0126 644
BIC (swift): BCITITMX Account number: 1000/126644