The Anglican Church of the Ascension, Cadenabbia
2017 Services
Sunday Services
A sung service of Holy Communion is celebrated every Sunday at 10.30 am from Easter Day through May, June, July, August, September and ends on October 5th 2017. The Priest in Charge is Rev. Vickie Sims, who is based in Milan. She is assisted by visiting priests, based in Cadenabbia, from the UK, Australia, New Zealand and Hong Kong,
After the service there is an opportunity to meet visitors and members of the congregration over refreshments, as well as to browse through and purchase from a selection of second-hand books.
Other Services
Baptisms, wedding blessings, renewal of marriage vows and funerals can be arranged, also in other local venues. For services to be celebrated please contact Rev. Vickie Sims at allsaintspriest@hotmail.com.
The visiting priests Fr. Roger Williams, and in September Rev'd Edward Hanson, can be contacted from April 15th until the 1st of October 2017 at +39 0344 42165 or at: revrgwilliams@hotmail.com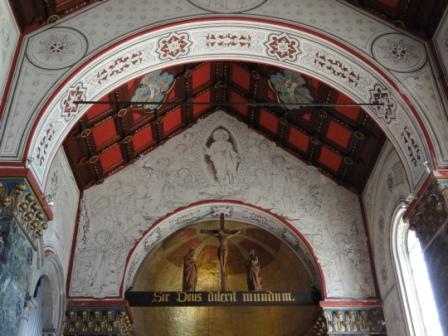 THE 2017 SEASON
The 2017 season will run from Sunday 15th April to Sunday 1st October. There will be a sung Eucharist at 10.30 in English every Sunday during the season.
Wedding blessings, baptisms and renewal of wedding vows may be carried out during this period by prior arrangement with our locum chaplain.
We are delighted that Fr. Roger Williams will be our locum chaplain for the 2017 season up to August and Rev'd Edward Hanson in September and the first Sunday in October. Fr. Roger, and his wife Enid, was our locum priest last season and we are delighted to be welcoming them both back to Lake Como for the 2017 season. Fr. Roger can be contacted by email at revrgwilliams@hotmail.com